Questions You May Ask
1.We are a local factory without any import experience. Is the foreign trade process too complicated for us?
We fully understand the concern from customers who are dedicated to manufacturing rather than trading.We'd love to help you acknowledge every step of international trade by flow diagram below and take care of most of process for you to make things easier.In general,once you placed an order,all you need to do is waiting for the container.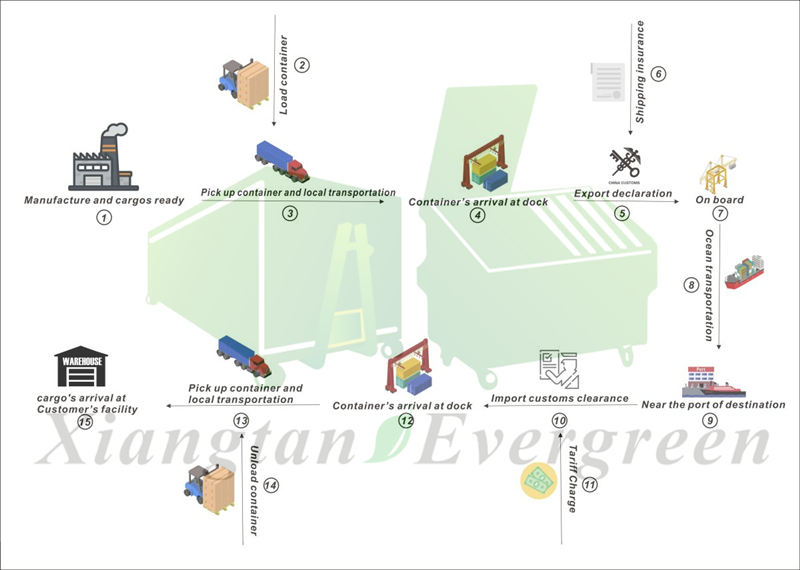 2.
During the whole import process, besides the cost of purchasing products, what other costs should I bear?
Please see flow diagram above.We list some price terms respectively,in which responsibilities and steps the exporter takes charge of were included according to different sequence numbers.
EXW(Ex Works):
①②
FOB Main Port(Free On Board):
①②③④⑤
CIF Port of Destination(Cost,Insurance and Freight):
①②③④⑤⑥⑦⑧⑨
DDU Customer's Facility(Delivered Duty Unpaid):
①②③④⑤⑥⑦⑧⑨⑫⑬⑮
We quote you FOB prices as a basic price term generally.Besides this,you need to pay freight from main port in China to main port of your country,clearance fee,import tariff and local transport charge.If you need to calculate the final cost of each product,we are willing to offer help.
3.How can I keep my money safe when I do business with you?
We are the member of Sinosure,which is the largest official importing and exporting insurance company in China.Under the permission from our customers,we will apply a credit line for you from sinosure.Once the credit line is approved,then we could offer you our best payment term: Pay us within 30 days after receipt of the cargos.Please ckeck the illustration below: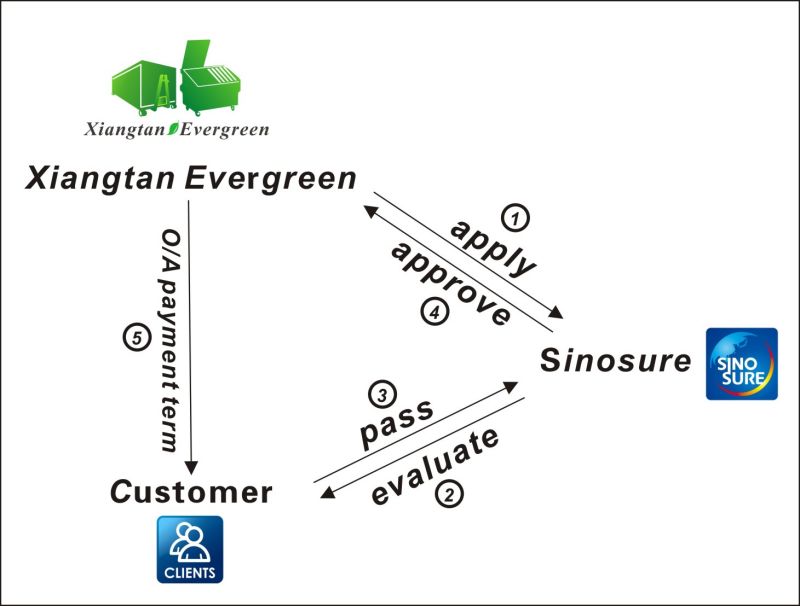 4.What if I found some problems with the products after receiving the goods?
The quality problems seldom or never happen.If you encounter any quality problems, it is stated in our contract that you have the right to raise any objection within 45 days after receiving the goods,and we will be responsible for the quality problems by replacement or refund.
5.
A 1x20 GP container of goods is too much for me, how can I purchase from you if the quantity I need is not that much?
If the quantity you need is not too much,we recommend you to purchase various kinds of products based on Minimum Order Quantity to make up the quantity of one FCL.We have rich production experience, excellent factory resources and stable supply chain system, which make sure that we could provide you with all the products you need by one time procurement.
6.
Many accessories I need are not shown on your website or catalog. Can you accept separate customization?
Yes,we have the ability and are willing to customized special parts for your dumpsters and roll offs.In fact,many of our customers have request for customized products in particular styles or sizes.You could choose to send us samples or drawings so that we could confirm the production pocess and cost.
7.
I worry about my demands may not be met due to the distance between us, how do you ensure the quality of your service?
Our sales will update every step of the whole process by photos and videos if you need.We welcome phone calls or video calls from you to discuss any details and meet your requirements by a more efficient way.